YOUTH ENTREPRENEURS
Fostering youth entrepreneurship increasingly is seen as an important way of creating employment opportunities and ensuring that communities are able to benefit from the potential of their youth populations. Youth bring creativity, energy and talent to economies and shape the foundations for future growth and progress.
Business development services and support for youth interested in pursuing entrepreneurial careers requires specific training in business and entrepreneurial skills.
Starter Company

Starter Company, a brand new program, supports youth ages 18 to 29 across the province by partnering them with experts to help them develop the skills needed to launch successful businesses.
The program offers:
One-on-one guidance from a Small Business Enterprise Centre advisor
Mentoring with local successful entrepreneurs
Access to business workshops on topics from writing a business plan and budgeting, to executing a marketing campaign
Funding of up to $5,000
Experience running a business that will better position you to obtain more traditional financing, such as a bank loan
To apply for the Starter Company program, or to discuss your idea, contact VBEC at 905-832-8526 or Email: VBEC@vaughan.ca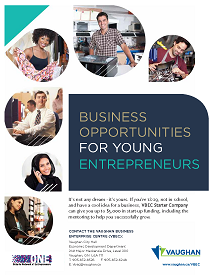 Visit the Youth Entrepreneurship site for additional information on other youth initiatives